Aquatics and Watersports
The Aquatics Program at Seacamp includes exiting classes in Sailing, Windsurfing, Lifeguarding, and Kayaking by knowledgable instructors. Lifeguarding classes offer opportunities for certification with nationally recognized training organizations.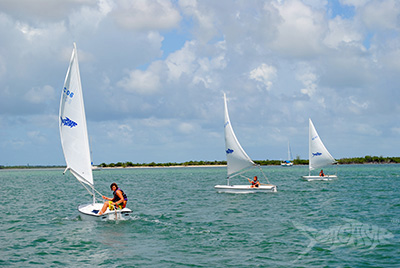 Sailing
Learning how to sail is an excellent way for campers to apply their understanding of winds, tides, and currents, and has been the first step for many campers into the world of oceanography.
Seacamp offers the opportunity to learn the art and sport of sailing for fun. Lecture and practice aboard our fleet of sailboats provide an overview of safety, rigging, wind awareness, points of sail, steering, sail trim, tacking, jibing, navigation rules, and seamanship.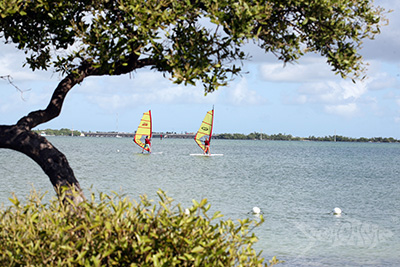 Windsurfing
Seacamp has developed a time proven program of instruction designed for the first time board sailor. As preparation for their first actual windsurfing experience, campers begin the course practicing on a dry land simulator.
The camper then begins to practice windsurfing skills on the water. In addition, course instructors address topics such as wind speed, wind direction, tide, current, safety, balance, stance, gear, and windsurfing theory as well as other basic aspects of the sport such as rigging, tacking, jibing, rules of the road, board control, and much more.
The warm waters around Seacamp afford ample opportunity for campers to practice their skills with our fleet of windsurfing boards.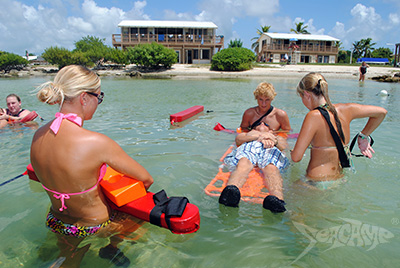 Lifeguarding
Seacamp offers the American Red Cross Lifeguarding certification, which is a worthwhile credential for young adults 15 years and older, who are interested in a summer job or who desire the skills and training to be of assistance in an emergency.
This class includes American Red Cross First Aid and CPR/AED training. Topics in the Lifeguarding class include: injury prevention and facility safety; patron surveillance; rescue skills; victim assessment; and care for head, neck, and spinal injuries. In First Aid, campers learn how to respond to common first aid emergencies, including burns; cuts; head, neck, and back injuries and more. The CPR/AED class covers how to respond to cardiac and breathing emergencies in adults, youth and infants, including the use of automated external defibrillators (AED).
Lifeguarding, First Aid and CPR/AED are required courses for all Seacamp Master Diver (SCUBA III) participants.
Campers must be 15 years or older to enroll in Lifeguarding.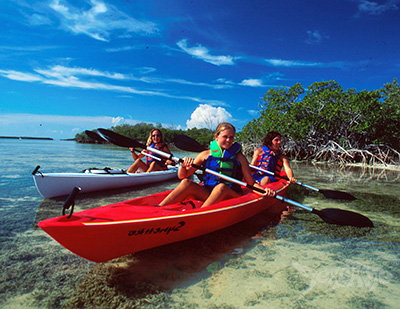 Kayaking
Kayaks are a great resource for eager and enthusiastic campers to explore the Coupon Bight Aquatic Preserve and nearby islands and channels. Instruction is provided in kayaking safety, the proper way to get in and out of a kayak, and basic paddling strokes for moving forward, backward, and turning. The kayaks are utilized in Seacamp's Marine Science program.
Request More Information