Creative Expressions
The Creative Expressions Program at Seacamp includes classes in Arts & Crafts, journalism, and photography.
These courses offer campers opportunities to express themselves through artistic and literary activities. It provides time for hands-on projects like boat building, tie-dyeing, jewelry-making, and ceramics, as well as guidance in painting and drawing. Programs meet in the Arts and Crafts shelter, where campers may gaze upon the most beautiful and inspiring views available from camp property, while at the same time enjoying a gentle summer-long ocean breeze from the Coupon Bight Aquatic Preserve.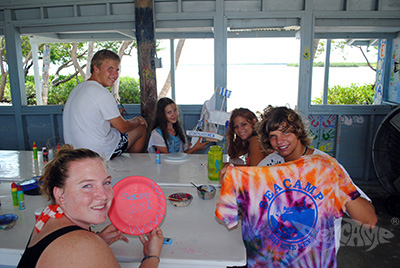 General Arts and Crafts
You will get an overview of many different creative processes including origami, candle making, sand art, plaster molds, painting, mask making, and much more!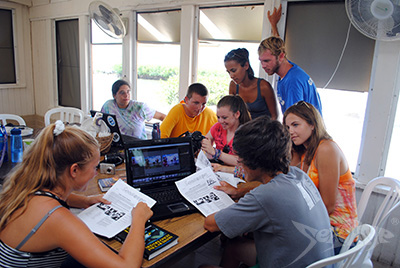 Seascope
EXTRA! EXTRA! READ ALL ABOUT IT! Seascope returns for another exiting summer! Take Seascope and learn about the ins and outs of Seacamp journalism! Also, learn some basic photography skills as you take snapshots of campers enjoying their courses. Come a Join the ranks of the Seascope staff where we will publish a great newspaper for campers and staff to take home with them.
Jewelry Making
This course provides an introduction to many different jewelry processes including bead making, hemp/macramé, lanyards, friendship bracelets, hair wraps, and beaded necklaces
Dance & Luau Prep
This class is designed to give campers a chance to decorate for special events such as dances, parades carnivals, parties, and a luau at the end of the session. Campers will work on themes for the events and on props and decorations.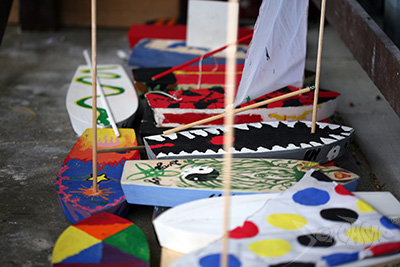 Model Boat Building
This is one of the more challenging of the arts and crafts classes. Campers will build and paint a model sailboat, test it, and enter it in the sailing regatta at the end of session luau.
Request More Information