Seacamp Facilities
With its beautiful location at Newfound Harbor on Big Pine Key, Seacamp offers teenage boys and girls an opportunity to explore some of the most exciting waters in the country, both in the Atlantic Ocean and the Gulf of Mexico. The Florida Keys are home to the 3rd largest coral reef tract in the world.
Campers will move among coral reefs, sandy and grassy areas, mud flats and natural tide pools, all of them rich in sea plants and animals basic to the study of marine science.
Camp facilities include a dining and recreation hall, science laboratory, deep water harbor, arts and crafts building, basketball and volleyball courts, health center, camp store, swim lagoon, sailing shelter, and administrative offices. Seacamp also has it's own private island that campers can kayak or wade to during science lessons.
Boats
The marine science and SCUBA programs are supportedby a fleet of well maintained boats including nine 25 foot pontoon cruisers. All boats carry US Coast Guard approved safety equipment and Seacamp maintains a record of all class destinations. The program vessels are equipped with radios which are monitored by our base station.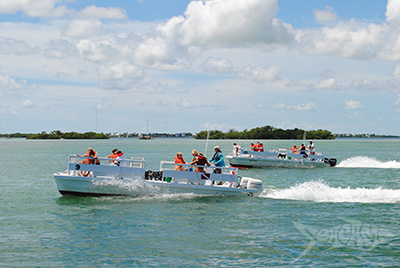 Laboratory Facilities
Seacamp's laboratory facilities include classrooms, aquariums, holding tanks, a library and a museum. A running seawater circulation system provides holding tanks and aquariums with fresh seawater. These tanks are shared by campers and science staff for research and observation. Some of the science equipment includes: charts, illustrations, microscopes, preserving jars and solutions, water analysis kits, seines, scoop nets, buckets, tubs, scientific glassware, and oceanographic equipment.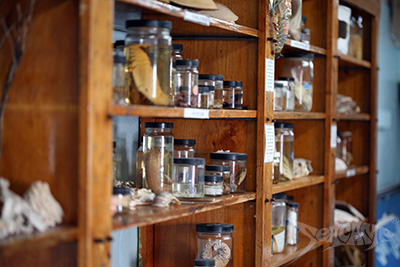 Housing
Campers and staff are housed our dormitories. These dorms are cooled by both fans and the cool evening breeze. Each room has a private bathroom including shower. Each cabin is responsible for cleaning their living and communal areas.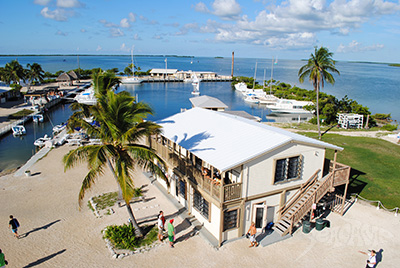 Food
Our ocean front dining hall is set up to provide campers and staff with a variety of food choices.
Medical Care
A nurse is in residence at the camp and manages our health center 24 hours a day. Complete hospital facilities are available in Marathon and Key West, which are 20 and 30 miles away respectively. Ambulance and Fire services are available right here on Big Pine Key.
First Aid and emergency equipment are kept on all motor boats and at all program locations on the waterfront. All staff are trained on site and certified by the American Red Cross in Lifeguarding, First Aid, and CPR.
Request More Information