SCUBA and Marine Science at Seacamp
Seacamp offers a variety of SCUBA courses, from snorkeling skills, to basic SCUBA certification, to Marine Investigations for campers already certified, to Master SCUBA Diver certification, to Advanced Marine Investigations.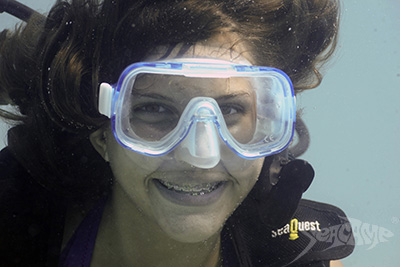 Each course is designed to gradually increase and improve student skills and knowledge in the use of SCUBA for marine observation and research.
Due to time constraints, SCUBA III & IV are only available during the 18-day sessions. SCUBA I & II are available during the 7-day sessions only if the camper stays for two sessions.
Snorkeling - The First Step
In the Snorkeling class, campers receive formal training in the skills of skin diving. Learning the proper way to hold your breath while surface diving, as well as how to clear a snorkel, helps divers become more comfortable in the water.
This is a required course for all basic SCUBA certification participants and is essential for a camper's ability to conduct effective in-water observations of marine organisms and participate in marine research and is, therefore, a helpful class for all campers.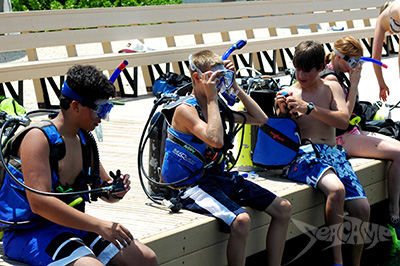 SCUBA I - NAUI SCUBA Diver Certification
This course offers campers who are strong swimmers and 12 years and older the opportunity to obtain the NAUI (National Association of Underwater Instructors) SCUBA Diver Certification, and is especially tailored for teenagers at Seacamp.
Led by a NAUI SCUBA Instructor, campers initially learn about the science of SCUBA and responsible diving through classroom work and confined water skills practice in our Swim Canal. Topics such as dive planning and safety, the physics, physiology, and medical aspects of diving, the purpose and features of diving equipment, and practical drill in open water are all included.
The course concludes with open water check out dives as well as a written test. Upon successful completion of all components, the camper will receive their NAUI basic certification.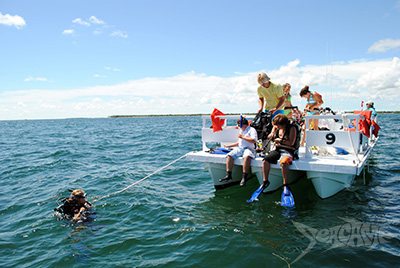 SCUBA II - Marine Investigations
This course is designed for campers who are already SCUBA certified and consists of open water dives involving scientific data collection, observation and marine life studies. The classes are led by a SCUBA instructor or Divemaster who team teach with a Science Instructor to deliver hands-on marine science research experience while further developing and refining the campers diving skills.
Examples of classes offered may include: Marine Invertebrates- a focus on the identification, behavior, and structural adaptations of marine animals without backbones Reef Fish Ecology- the study of fin structure, coloration, and swimming styles of reef fish Coral Reef Ecology- the study of coral formation, habitats, different types of reefs with strong emphasis on protection of the delicate environments Marine Research Techniques- a focus on the use of methodologies following the Atlantic and Gulf Rapid Reef Assessment (AGRRA) protocol, which covers various research techniques used by scientists, such as mapping, transecting and collecting.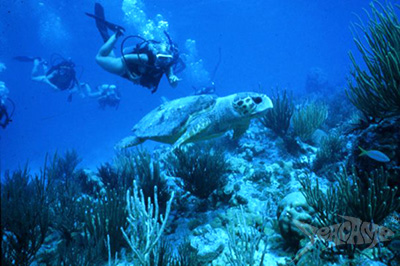 SCUBA III - NAUI Master SCUBA Diver Certification
This class is open to campers 15 years and older who have successfully completed an Advanced SCUBA Diver class or the equivalent. Seacampers may only enter this course by presenting a SCUBA certification card and a log of at least 12 environmentally varied open water dives. Included in the 12 dives there must be a limited visibility or night dive, a deep dive and a navigation dive. All campers must have a current Red Cross Lifeguarding and CPR certification or must be willing to concurrently take a Red Cross Lifeguarding and CPR course while at camp.
This advanced training opportunity includes the following: underwater navigation, limited visibility, search and recovery procedures, light salvage techniques, various diving environments, applied sciences, diving equipment, decompression and recompression theory, and emergency procedures and rescue skills. Upon successful completion of the written test and practical skills, the camper will receive a Master SCUBA Diver Certification.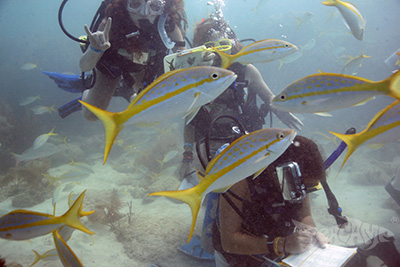 SCUBA IV - Advanced Marine Investigations
This opportunity is open to campers who are 15 years and older who have successfully completed two SCUBA II courses or the SCUBA III course. Participants must also pass a swim test and a skin and SCUBA check out to the satisfaction of the SCUBA Instructor.
In SCUBA IV, campers have the unique opportunity to take part in our ongoing coral study, which is a multi-year Seacamp research project. Using data collected from each dive, campers write a scientific report with guidance from their science instructor. At the end of the session the findings are presented to the entire camp.
---
Those interested in SCUBA should meet the following prerequisites:
Minimum age
Excellent swimming ability (swim test will be given)
Signed waiver and release by parent or guardian
Good health. Our SCUBA medical form must be completed and signed by both the camper and parents and approved by a doctor. There should be no history of heart or lung trouble, asthma, sinus or ear trouble. NAUI Contraindications to SCUBA diving.
Request More Information